VIN Number Decoder
Add your vehicle VIN number, click on "Get Data" and watch how all the listing information will be automatically filled for you. Car Dealer with VIN number decoder is the easiest way to add vehicles to your inventory.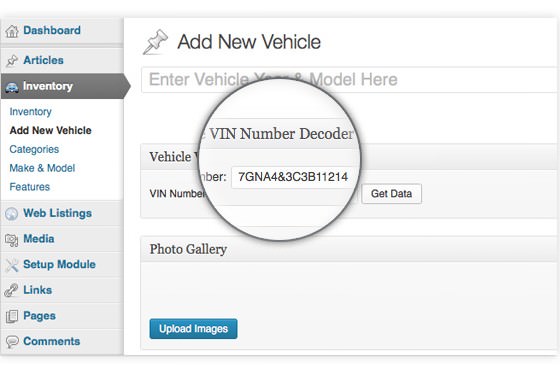 Quick Inventory Access View
Full Dealership inventory access with one click from your WordPress dashboard highlighting price, make-model, VIN number, vehicle photo and more, delete-edit-preview your car listing right from this module.
Vehicle Information
Streamlined and easy to fill vehicle information with car condition, year, exterior-interior color, vehicle type and more, you can use the provided options or setup your own labels in the WordPress Car Dealer administration.

Craigslist Integration and Code Generator
With the included Craigslist integration in the Premium and Deluxe theme packages on the WordPress Car Dealer theme you can copy and paste the pre-formatted code from the Craigslist Code Generator module and have beautiful ads formatted on your Craigslist account ready to publish.
Gorgeous Galleries
You can have a huge photo gallery showcasing your vehicle in seconds, upload batch images and publish, delete, re-order and edit photo information right from your listing editor, the theme will process, crop and resize your images to fit all modules.

YouTube and Vimeo Integration
Add video to your individual car listings in no time, WordPress Car Dealer theme feature a Video Module on the listing editor where you can copy/paste YouTube or Vimeo video ID and the video will show up in the features and overview tab on single listing page and formatted to fit your layout.
Full Vehicle Specifications
With the optional full vehicle specifications, you can post extremely detailed information about your vehicle, this module is optional and you can show-hide the module in your widgets sections in the WordPress administration.
Add your own labels and options to the search module.
Add your own labels and options in the search module and setup fields section of the WordPress Car Dealer administration, from writing labels in your own language to changing the whole purpose of the theme you can convert Car Dealer theme from a regular dealership template to your own business theme, the search module setup will give you extreme flexibility on making your own theme.

Currency and Metrics in for your own country.
General Business Phone, Currency and Metrics selector will allow you to display the theme on your own language metrics and currency symbols.
Widgets Everywhere.
WordPress Car Dealer theme is heavily based on Widgets giving you the option to show and hide almost any part of the theme from your visitors and making Car Dealer theme to look as a state of the art unique theme for your visitors and customers to enjoy.